Riley / Benson Hit the Spot at Shasta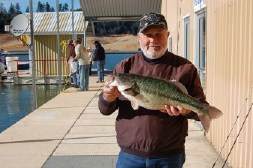 If you like Spotted Bass fishing then Shasta Lake is the place to be. The big Spots are on the prowl and the 32 boats of 100% BASS's Northern Regions went a hunting. During check in on Sunday morning at Phil's Props, all anyone could talk about was the great weather and how the Spots were eating. With sunny skies and winds 10 - 15 MPH, the conditions were perfect. Almost everyone weighed in a 5 fish limit and there was no doubt what the bite was, Brown Jigs or Swimbaits. While the winners anchored their limit with 5.97 lb spot, it was the consistency that paid off since less than a pound separated the top 3.
Finishing on top were 5 time anglers of the year, Jim Riley and Bob Benson, both from the City of Shasta Lake. Obviously considered locals, they are one of the most consistent team in resent memory. This day was no exception. While they had a big fish, their other 4 where the best of the day, giving them the win. Their 5 fish totaled 17.92 pounds and like the other top finishers, they were all Spotted Bass. Benson told everyone at the awards ceremony, they caught all their fish on Brown Gann's Jigs with Brown trailers. They spent all day in the Sacramento Arm and did the old run and gun from point to point to point. While burning a lot of gas, it sure paid off as they took home $2980 and trophies compliments of Phil's Props in Redding. Congratulation to Jim and Bob for another exiting day, and thank you for taking the time to thank your sponsors, Phil's Props, Ganns Jigs, MF Custom Worms and Oasis Water Sports. Pictured at right is Bob Benson with his big fish and a 4 pound cousin to go with it.
Second place went to Cottonwood's Steve Mellow and Frank Bulthus. They were the one team that did something totally different as the Ripped Lucky Craft Rip Baits all day long focusing on Main Lake Points with deep water, looking for the fish that were just moving up. It worked pretty well since their 5 fish came in at 17.36 pounds and brought them with in a whisker of winning. They also received a pair of those nice trophies and a check in the amount of $1805. Good job.
Third place went to a couple of really nice guys, Pete Pinkerton of Lakehead and Don Reighley of Oroville. Don caught the Mercury Pro XS Big Bass of the day, a monster 7.39 pound Spotted Bass (Pictured left) which anchored their 5 fish limit of 17.27 pounds. Reighley said later, the big fish came on a Huddleston Swimbait, but the rest of their fish came on crawdad colored tube baits and hand poured worms. They spent most of the day in the McCloud Arms, but did spend some time on the main lake where the big one was caught. As a reward they took home $1210, Trophies and a lot of hand shakes for the huge bass. Don also took the time to thank JB Tackle.
Fourth place went to long drivers, JR Wright of Truckee and Cody Meyer of Grass Valley. With second big bass (a beautiful 6.39 pound SPOT), in their limit of 15.88, these guys also gave everyone a run for the money, which totaled $630 for them. The final top 5 place went to Father and Son Pat and Kyle Clement. They weighed in at 14.62 and took home $380.
100% BASS would like to thank the fine sponsors that make the difference between fishing and the quality events we are able to provide as a result of their support. BassCat Boats, Mercury Outboards, Mossdale boats in Tracy, Berkley Trilene, Spiderwire Braid, Persuader Bass Baits, Walton's Pond in San Leandro, Hook, Line & Sinker in Oakley, Phil's Props in Redding, MF Finesse Custom Worms, Comfortroll, Comfort Suites of Oakley, Jims Pro Bass Tackle in Paso Robles, Cal West Concrete Cutting, Kosich & Callahan Insurance Services, Black Dog Baits, CoverLure, Castillo Badillo, Puerto Vallarta, Mexico, Angels Inn Motel of Angles Camp and Russo's Marina on Bethel Island.
For complete details please see our website at www.100percentbass.com
Source: 100percentbass.com (2008-03-05)