Ute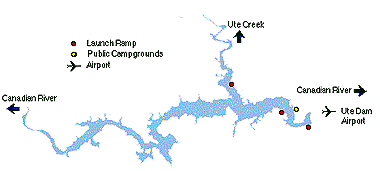 Ute Lake is the second largest lake in New Mexico. It was created in 1963 with construction of the 5,750-foot-long earth-filled Ute Dam, which impounds the Canadian River and is also fed by Ute Creek.
Ute Lake has 8,200 surface acres and is the only major reservoir in New Mexico built entirely with state funds. It is also the the largest Labyrinth Weir Spillway Facility in the world. The lake is almost 13 miles long, but it's only a skinny one mile across. It lies at an elevation of 3,900 feet and is known for its numerous coves and inlets.
Largemouth and smallmouth bass are available to the angler. Other species found in the lake are walleye, catfish, crappie and bluegill. Round-the-clock fishing is available every day of the year for angler fanatics. The lake has produced several state-record game fish.
The state park has three paved ramps on the north side and two on the south side for boating, water skiing, scuba diving, swimming, sailing, fishing and wind surfing. Windsurfing is popular on the lake, especially in the spring. Visitors can rent small boats and pedal-boats and purchase fishing and boating supplies at the marina. Several sandy beaches are in the north area, which also has picnic tables and campsites. In fact, the camping throughout the park is extensive, with 200 campsites available, 80 of which have hookups. Most of the campsites have good views and easy access to the lake, and showers are available in two areas.
Annual precipitation is 15.8 inches. Summer temperatures range from lows around 63 to highs around 92. Winter temps range from lows of 25 degrees to highs around 54.
Ute Lake State Park is 25 miles northeast of Tucumcari on Hwy 540, three miles west of Logan.
For more information, New Mexico Game and Fish = Phone: 505-827-7911. Ute Mountain State Park, P.O. Box 52, Logan, NM, 88426, Phone: 505-487-2284

Name: everett
Date: 2005-03-06
Location: dalhart
E-Mail: evercari@yahoo.com
Water Temp: 48 on main lake
Water Clarity: 3
Report: Ute starting to finally warm up. Blacks and smallies are on main lake points and secondaries in coves. Mesquites on gravel points with suspending rogues and pointers seem to work best. Crankbaits and jigs on the rocky points will work for secondary pattern.

Tips:
---
Name: Troy Rush
Date: 4-28-03
Location: Albuquerque
E-Mail: mysticmojorising@yahoo.com
Water Temp: 55-60 ???
Water Clarity: 2
Report: Smallmouth and Largemouth were air to good rom the bank in Mine Canyon and Rogers area this weekend. (2-8 oot) holding tight to cover (boulders, standing timber, laydown shrubs)Walleye ishing was good rom the bank in the Rogers area. (4-15 oot) seemed like they were just roaming the bottom, bite seemed to pick up shallower between noon and 3 PM.

Tips: Crankbaits and lizards didn't seem to work in a variety o colors and depths. Didn't ind a particular pattern other than white seemed to be the color the bass and walleye were looking or. All smallmouth and walleye's came on 3.5" White tube with 1/8 oz. sinker texas rigged with wide-gapped 2/0 hooks. Tried a variety o plastics, but white tubes turned out to be key or all species. Caught one Lg Mouth on a clown colored jerkbait. Red crankbaits and white spinners got the attention o 4 or 5 walleye but they wouldn't strike, only ollow it and then turn o. Smallies and Lg Mouths wanted a real slow, hop it 6" and pause presentation. Walleyes seemed to like a larger hop o the bottom and were not hitting as aggressively as the bass, but their strikes were deinitely more plentiul.
---
View All Reports