BARRACK SNAGS 2004 NOR-CAL BASS/100% BASS PRO CHAMPIONSHIP
Meidlinger takes amateur division title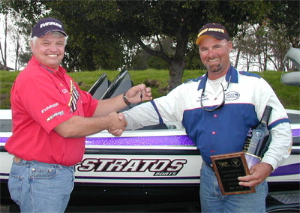 The Nor-Cal Bass and 100% BASS pro-am tournament trail seasons came to an end this past weekend at the $45,000 2004 Pro Championship.
    The two individual circuits conduct five pro-am tournaments during the season that culminate in the combined pro championship, which takes the top 20 Pro and Am anglers from each circuit.
    Check-in took place Friday night at the Hook, Line & Sinker in Oakley. Owner Gene Buchholz stayed open, offering hot coffee to take the edge off the cool evening. The competitors waded through all the tackle available at the store, picking up those last minute must have items for the upcoming weekend.
    All forty anglers in the Am Division received tackle packs with their sign-up. Each pack included; Super Pork, MF Custom Worms, Trilene line and Persuader baits.
    The anglers were all checked in by the 7:00 pm meeting and were waiting in anticipation of their draw position and partner pairing for day one.
    Tournament Director, Bob Kornhauser covered the planned festivities for the weekend, announced the rules for the tournament and then paired the anglers for day one and two.
    Saturday morning came with patchy fog and cool temperatures at Brannon Island State Park.
    The competitors were chomping at the bit to begin their assault onto the California Delta and the weather wasn't going to prevent them from launching their boats and getting ready for the blastoff.
    Right on queue the last patch of fog blew over just as safe light approached, leaving no doubt that the 2004 Pro Championship would start on time.
    The competitors safely took off in search of those lunker bass that the California Delta is known for. Eight hours was all between the anglers and the weights that would place them in position to take the title on day two.
    As 3:00 pm approached the first of three flights were seen making their way to the boat ramp. Many of the anglers reported tough fishing conditions. Catching fish didn't seem to be the problem but finding the quality fish was a little more difficult.
    Day one saw 182 bass cross the scales weighing 366 pounds. Nearly all the boats brought in five-fish limits with an average weight of 9 pounds per boat.
    The heaviest string on day one belonged to Oakley pro Bobby Barrack and his partner Brian Ruthman, of Oakdale. A force to be reckoned with, Barrack, along with his partner, brought in a five-fish limit that tipped the scales at 21.94 pounds. The weight was capped by Barrack's 7.35 pound lunker that would lead the pro big fish pool going into day two.
    Second place just 4 pounds off the mark was Elk Grove pro Ken Mah and his partner John Pierce, of Rocklin. Mah and Pierce brought in a five fish limit weighing 17.63 pounds. The pair's weight was capped by Mah's 5.05 pound bass.
    Folsom pro Albert Berends and partner Ray Crane, of Sacramento, brought in a 14.31 pound five-fish limit that was held together by Berends' 6.55 pound lunker and Crane's 5.07 pounder.
    Holding down fourth place on day one was Sacramento pro Rick Kendrick and partner Jon Blanc, of Modesto. Kendrick and Blanc brought in a five fish limit weighing 13.60 pounds.
    The fifth place spot was held by Modesto Pro Norval Pimentel and partner Jerry May, of Bakersfield. Pimentel and May brought in a 12.38 pound five-fish limit.
    The first day of competition would be capped by an angler appreciation dinner taking place that evening. Arnie's BBQ did another awesome job of provided a huge meal for the anglers to enjoy.
    The dinner was sponsored by Bob's Marine, Autolife Outdoors and Tracy Oasis Marina. Their generosity ensured that all attending had a great time.
    The evening was about acknowledging the top twenty pro and am anglers from both Nor-Cal Bass and 100% BASS as well as the Anglers of the Year from each of the circuits.
    After a hard fought battle all season the top anglers were awarded with beautiful eagle trophies and free entries into 2005 pro-am events.
    Nor-Cal honored pro division Angler of the Year, Jeff Mathews of Clovis and am division champion, Bill Clayton of Modesto. Also honored was Nor-Cal's Tim Turner. The Kerman pro won the Thompson Chevrolet Rookie Points Race.
    100% BASS honored pro division Angler of the Year, Albert Berends and am division top finisher, Zane Wiley, of Kentfield.
    The weather on day two wasn't going to be nearly as cooperative as day one. The fog was moving in and getting thicker by the minute.
    The tournament was delayed several minutes as tournament officials waited for as much light as possible to brighten the skies above Brannon Island State Park.
    Safety was top priority as the anglers were released one by one into the fog that blanketed the area. It was clear enough to see several hundred feet but anglers were told to idle and maintain safe speeds at all times.
    The fog definitely impacted the anglers on day two as several reported not being able to get to their primary fishing areas. Many said they spent the first couple hours fishing new spots because they weren't sure where they were at!
    The numbers of fish as well as the catch weight were down on day two as the anglers brought 157 bass to the scales weighing 336 pounds. That brought the average per boat down to just over 8 pounds.
    Fog or no fog, it's tough to catch a seasoned Delta veteran such as Bobby Barrack. Ken Mah gave it a run and was able to close the gap but in the end Barrack prevailed.
    Barrack snagged the title and his Snag Proof Perfect Frog was the primary key to victory. Barrack backed up his day one weight with a five-fish 18.00 pound day two sack. The Oakley pro sealed his victory by landing a 7 pound bass on each day. His day two lunker weighed 7.01 pounds. Barrack finished with a two-day total of 39.94 pounds.
    "I fished from the central to the west Delta keying on moss in 3 feet of water", said Barrack. Barrack used 65 pound SpiderWire on Lamiglass rods with Curado reels to throw the frog. "Most of our fish were caught on topwater. Five fish came off the frog, one on a spook and one on a buzzbait", said Barrack. Barrack also caught three fish on a Sweet Beaver that had reacted to his topwater bait.
    Barrack fished topwater all day, sometimes going several hours without a bite. But obviously he made the right choice as he was crowned Pro Champion. The Oakley pro also took Big Fish honors in the Pro Division with his 7.35 pound lunker that earned him $350.
    Barrack thanked his wife, Stacy, for all her support as well as his sponsors; Snag Proof, Minn Kota, Hummingbird, Terminator, Dandy Baits, JD's Reel service, Reaction Innovations, Doc Waters, DJ's Rods and Kevin's Prop Shop as he accepted the keys to his $30,000 Stratos/Evinrude/Minn Kota/Thermo Oil prize package.
    Ken Mah gave a valiant effort, closing the gap on Barrack. However the Elk Grove pro fell just shy of winning the championship.
    Mah had the heaviest stringer on day two, a solid 19.40 pound five-fish limit. His weight was capped by a 7.15 pound toad, which took 2nd Big Fish in the Pro Division. Mah's two-day total of 37.03 pounds placed him nearly 11 pounds heavier then 3rd place.
    Mah keyed on soft cover in 2 to 10 feet of water, fishing areas around Frank's Tract, Mildred Island and Stockton. The Elk Grove pro used 50 pound Tuff Line on Loomis rods and Shimano reels and caught fish on red rattle baits, Jim's Pro Bass Tackle green pumpkin custom jigs and Boom Boom Tubes.  
  "I cranked until about 9:00 am each day then spent the rest of each day flippin jigs and tubes."
    Mah who is sponsored by; G Loomis, Comfortroll, Jim's Pro Bass Tackle, Fishermen's Warehouse, C&C Marine and Spro.com, took home $3,180 for his solid performance.
    Third place went to Oakdale pro Bruce Harris. Harris' 16.66 pound five-fish limit on day two launched the pro into 3rd place. Harris' weight followed his day-one performance of 9.44 pounds, giving the Oakdale pro 26.10 pounds for the tournament.
    Harris used purple and brown homemade jigs and Reaction Innovation brown gitzit's on 25 pound Big Game with St Croix rods and Garcia reels.
    "I fished the west to south Delta, keying on flats with tules. All my fish were flipped in 4 feet of water or less," said Harris. His solid comeback earned the pro $1,695.
    Fourth place went to Kerman pro Tim Turner. Turner was in 8th place after day-one with 11.41 pounds. The Kerman pro upgraded his weight on day-two when he brought in a 13.42 pound stringer. Turner's two-day total of 24.56 pounds earned him $1,120.
    San Leandro pro Jesse Hoover finished in 5th place with a two-day total of 22.99 pounds. Hoover recovered from a three-fish 9.57 pound 14th place day-one limit to a solid 13.90 pound five-fish limit on day two. The San Leandro pro took home $550 for his fifth place finish.
    Taking the championship crown in the Am Division was Merced angler Mark Meidlinger. Meidlinger had a two-day total of 10 fish for 31.05 pounds. Meidlinger fished on day one with Penngrove pro Nick Langlois, bringing in an 11.65 pound five-fish limit, which placed him in 7th place.
    On day two Meidlinger fished with 2nd place pro Ken Mah. Their solid performance on day two launched the Merced angler into 1st place. Meidlinger took home $1,570 for his great finish.
    Second place went to Bill Scharton, of Oakdale. Scharton was paired with Roseville pro Dean Coupe on day one. Scharton was in 6th place after his 12.35 pound five-fish day-one stringer. Day two paired Scharton with 3rd place pro Bruce Harris. Their 16.66 pound five-fish limit gave the Oakdale angler a two-day total of 29.01 pounds. Scharton took home $905.
    John Pierce fished the first day with Ken Mah, which placed the Rocklin angler in 2nd place with 17.63 pounds. Pierce fished on day two with Nick Langlois, bringing in a 10.24 pound limit. Pierce slipped one position, but still made a solid showing and held onto 3rd place with his two-day total of 27.87 pounds. Pierce took home $615 for his great finish.
    Fourth place went to 100% BASS Amateur Angler of the Year, Zane Wiley. Wiley made a tremendous jump from a 6.80 pound 34th place position on day. Wiley fished with pro champion Bobby Barrack on day two, bringing in 18.00 pounds giving the Kentfield angler a two day total of 24.80 pounds. Wiley's comeback earned him $430.
    Modesto's Jon Blanc finished in 5th place with a two-day total of 10 fish for 23.45 pounds. Blanc fished with Sacramento pro Rick Kendrick, bringing in a solid 13.60 pound limit. On day two Blanc fished Modesto pro Norval Pimentel, tacking up another 9.85 pounds, which sealed up 5th place. Blanc took home $710 for his efforts.
    No competitor in the Am Division went home empty handed. The top eight anglers received a cash payback while the remainder of the field took home product worth no less the $50. Am Division anglers took home rods from Kistler and St Croix, Solar Bat Sunglasses, Tackle from; Persuader, Mister Twister, Keeper Custom Worms, MF Finesse Worms and Super Pork.
    Another successful season is now in the books with the 2005 season just weeks away. Visit www.nor-calbass.com and www.100percentbass.com for information on their upcoming seasons.
    Nor-Cal Bass Tournament Trail sponsors are: Stratos Boats, Evinrude Outboards, Bob's Marine, St Croix Rods, Thompson Chevrolet, Autolife Sporting Goods, Escalon Bait & Tackle, Tom's Truck Repair, Tracy Oasis Marina, Del Taco Manteca/Oakdale, Thermo Oil Batteries, Super Pork, Keeper Custom Worms.
  100% BASS Tournament Trail sponsors are: Stratos Boats, Evinrude Outboards, Bob's Marine in Modesto, MinnKota Trolling Motors, Berkley Trilene and Berkley Frenzy Hard Baits, Mister Twister, Persuader Bass Baits, Solar Bat Eye Protection, Thermo Batteries, DelTaco of Oakdale/Manteca, Walton's Pond in San Leandro, Hook, Line & Sinker in Oakley, Outdoor Sportsman in Stockton,  FishingWorld.Com, MF Finesse Worms, Vessel Assist Inc, Kistler Rods, TackleWarehouse.com, Comfortroll, Comfort Suites of Oakley, Day's Inn of Sonora and Sunny Oak Mufflers of Campbell.
Source: nor-calbass.com (2004-11-12)