Dworshak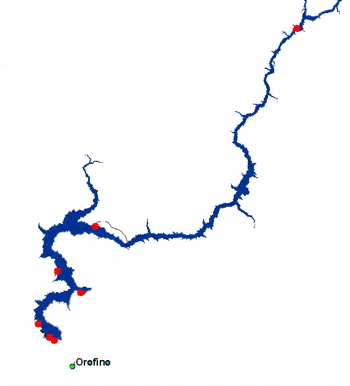 Dworshak Reservoir, in central Idaho along the North Fork of the Clearwater River, is located in scenic forested and mountainous country.
Resting 1,480 feet above sea level, Dworshak Reservoir has a capacity of19,824 surface acres at full pool with 183 miles of shoreline.
Fish species available include Black Crappie, Bull Trout, Chinook Salmon, Cutthroat Trout, Largemouth Bass, Rainbow Trout and Smallmouth Bass.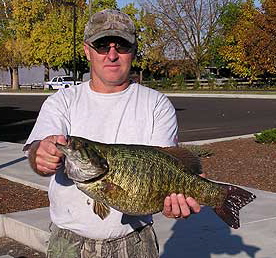 The current Idaho state record for a smallmouth bass is 9 lbs 11.5 oz caught by Dan Steigers on Dworshak Reservoir.
Popular activities include swimming, boating, fishing, hunting, water-skiing, camping, hiking and lots more.
At a height of 717 feet, the dam is the highest straight-axis gravity dam in North America, as well as one of the most dramatic in appearance.
The Dworshak National Fish Hatchery is the largest steelhead trout hatchery in the world. Lewis and Clark camped in the area, where they rested from their trip over the Bitterroot Range and built canoes for their trip on to the Pacific Ocean.
Nearest City – Orofino, ID

Name: Kamiah Kid
Date: 2010-10-11
Location: Kamiah
E-Mail: febaldwin@gmail.com
Water Temp: 65
Water Clarity: 3
Report: The Fall bite has started. Lots of 1-3 pound fish with a larger ones mixed in. Fished the upper end with Carolina rigs and plastics on jigs, i.e Sweet Beavers. This lake should fish good thru the end of the month.

Tips:
---
Name: Kamiah Kid
Date: 2009-09-13
Location: Kamiah
E-Mail: febaldwin@gmail.com
Water Temp: 69
Water Clarity: 2
Report: Fished mainly in the upper part of the reservoir. Caught appx. 20 Smallmouth, largest being 2#. All fish were caught on soft plastics in 10 to 20 feet of water. Best fishing was on the major points. As the water continues to cool the bass fishing should really pickup.

Tips: Try the Gold Creek area.
---
Name: Chris Walker
Date: 2007-01-21
Location: Modesto
E-Mail: cdmrwalker@sbcglobal.net
Water Temp: 51-53
Water Clarity: 1
Report: On water @ 9:00AM out of Fleming meadows. Fished big Creek around the islands just inside the 5MPH buoys. Lots of fish on the graph but no grabs on swim baits or cranks. Finally graphed some fish in a saddle between 2 islands @40 feet. Took two in about 20 minutes--one 4.13 and the other 3.13. Lost another similar at the boat and missed one last fish before I had to leave @ 2:00 PM. All fish grabbed a silver crocodile spoon vertical jigged just off the bottom. Fish willing once found and proper technique dialed in. W/more time coud have loaded the boat.

Tips:
---
View All Reports