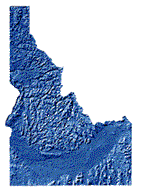 Idaho Bass Fishing Reports
The map to the left will take you to each lake's page. There you will find details about lake facilities, launch fees, anglers input and tips on lures and patterns that are catching bass.
On each page there is a link to the FISHING REPORTS PAGE. Let us know about your latest fishing trip by filling out this report . It will be posted on the appropriate lake page.
Also join in our FISHING DISCUSSION FORUM where you may talk about your favorite fishing subjects or issues dealing with our sport.
Dworshak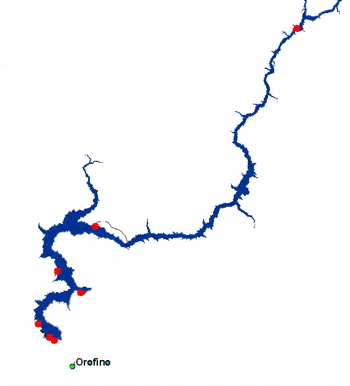 Dworshak Reservoir, in central Idaho along the North Fork of the Clearwater River, is located in scenic forested and mountainous country.
Resting 1,480 feet above sea level, Dworshak Reservoir has a capacity of19,824 surface acres at full pool with 183 miles of shoreline.
Fish species available include Black Crappie, Bull Trout, Chinook Salmon, Cutthroat Trout, Largemouth Bass, Rainbow Trout and Smallmouth Bass.
The current Idaho state record for a smallmouth bass is 9 lbs 11.5 oz caught by Dan Steigers on Dworshak Reservoir.
Popular activities include swimming, boating, fishing, hunting, water-skiing, camping, hiking and lots more.
At a height of 717 feet, the dam is the highest straight-axis gravity dam in North America, as well as one of the most dramatic in appearance.
The Dworshak National Fish Hatchery is the largest steelhead trout hatchery in the world. Lewis and Clark camped in the area, where they rested from their trip over the Bitterroot Range and built canoes for their trip on to the Pacific Ocean.
Nearest City – Orofino, ID
Saturday, Dec 7
Hi: 13˚ F

Lo: -6˚ F

Mostly Sunny
Precip: 3%

Partly Cloudy
Precip: 2%