Fishing with Réal Andrews
Lake Casitas Won Bass Team #5
Lake Casitas, CA - June 1st 2002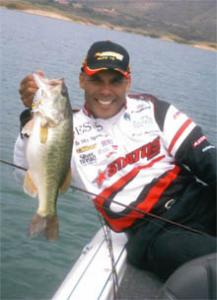 Well, I think I have been up now for 25 hours, but no big deal, I always say I could fish 24-7. Here is my chance to my practice what I preach, if you will. I have switched partners and am now fishing with my Won Bass partner, Doug Engh. We are the last boat in the first flight. In pre-fish, we found a real good top water bite and we headed off to our first spot. Of course, as happens a lot, we pull in and there is no top water bite whatsoever to found anywhere. Time for plan "B". I throw on my yellow lens Kaenons and jump on the bow of the boat while Doug runs the big engine and I scan the bank for bed fish. These glasses are truly the bomb-I can see all kinds of detail I have never seen before. It didn't take long until I spot a "Big Un". We stop the boat and it wasn't long until Doug gets the first fish in the boat. This would later prove to be our big bass of the day. Anyway, off to plan B. We pull up to Doug's favorite spot. Every time we fish this spot, it has given us a 4 plus bass. Doug pulls out the drop shot and I shake a 7" Riverside Ribbon tail worm.
Well, it didn't take long. Doug is on and it is a "Big Un." We get her in the boat and we are off to spot # 4 . Time for some more bed fishing but we have an added difficulty: Doug's trolling motor has lost power. Casitas is known for its wind and today is no different and his battery is dead from holding the boat in the wind. I guess he will be getting a Stealth charger soon. My night partner, on the other hand, I found out later, is enjoying lots of power on his trolling motor. You see, I had installed a Stealth charger unit on his boat so he could check it out because tournaments are very hard on your power source since you are so hard on the trolling motor. But because of the time on the big engine to your spot and back to weigh in, you can only go 5 mph so his trolling motor is fully charged without having to plug in between tournaments. Don't forget, David has fished two tournaments back to back, while Doug has only fished one and is only half way through. You do the math. Well, anyway, back to sight fishing with no trolling motor. Can we say nightmare? I am on the bow of the boat while Doug tries to hold us in position while I try to pull fish off beds with a Cinema drop shot worm and a Riverside finesse jig and a trailer. Did I mention it is very windy? This is next to impossible but between dropping the anchor, using the push pole which Doug dropped in the water and I had to hang over the side of the boat while Doug held my feet and I get totally soaked to retrieve the push pole. Some how I managed to get our next 3 fish in the boat. We were very blessed and had a good weight, finished 13th, got a check and qualified for the Tri Statues.
Thank you, Jesus!
Thank you to my sponsors Evinrude, Kaenon, Kinami, Kinesys, Phenix, Lowrance, Pradco, Stealth and Stratos.
---
About The Author