John Martin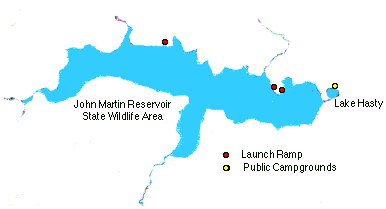 John Martin Reservoir is fed by the Arkansas River and is a part of the Arkansas-Fryingpan Water Distribution Project and rests at an elevation of 3,800 feet. The lake has from a low of 1,000 surface-acres up to a high of 15,000 surface-acres, with an average size of 8-9,000 surface-acres. The Army Corps of Engineers owns the bulk of the reservoir shoreline, but leases most to Colorado Division of Wildlife. It protects the Arkansas River Valley below the dam from floods originating in the 18,915 square miles of the Arkansas River basin above the dam.
The main reservoir has many types of warm-water fish. Early and late spring are popular for crappie and saugeye fishing. Fisherman from all over the country come to John Martin Reservoir early to mid-summer to fish for bass and wiper. Late-night fishermen will find channel catfish and walleye all summer long. Bluegills and drums are found throughout the seasons as well. Fall usually brings another run of crappie and wiper.
John Martin Reservoir, the first State Park in the southeast, will include the Lake Hasty area below the dam, the northeast shore of the reservoir from the dam westward to the waterfowl closure line and the surface of the reservoir. The remaining areas at John Martin Reservoir will continue to be managed by the Colorado Division of Wildlife and the Army Corps of Engineers. John Martin Reservoir becomes the fourth Army Corps property managed as a Colorado State Park. Cherry Creek, Chatfield and Trinidad Lake are also Colorado State Parks owned by the Army Corps. Construction plans for the park include $4.8 million in renovations. Major renovations have begun. Recreational facilities at the park are getting a major facelift, with improvements to utilities and camping facilities. During this renovation, portions of the facilities may be closed.
John Martin Reservoir is located in south eastern Colorado about 80 miles east of Pueblo.
For more information: John Martin Reservoir State Park - 29957 Co Rd 25.75 - P.O. Box 149 Hasty, CO 81044 (719) 336-1690 john.martin.park@state.co.us (e-mail)

Name: Cougun Ledford
Date: 2004-04-30
Location: pueblo
E-Mail: cougunledford@hotmail.com
Water Temp: 58
Water Clarity: 2
Report: The lake was very low to low for big bass boats. fishing for bass was very slow. wipper was also slow crappie and channel cat was good to exelentwith the droping water level I will be discouraged to go back for a while so if your a bass fisher I would think twice. if any one finds out diffrent please post it.

Tips: with most of the traditional bass structure out of the watter it is my best thought to fish points and rip rap with a couple of difrent baits try crawdad and shad colored crank baits in 4 to 12 foot of waterand also try senko type baits in either pumpkin or white colors. also dont forget if you are equiped with a flip'n stick to flip a pig and jig at any standing structure you can find.
---
View All Reports