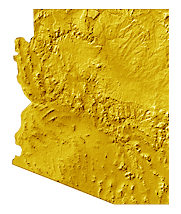 Arizona Bass Fishing Reports
The map to the left will take you to each lake's page. There you will find details about lake facilities, launch fees, anglers input and tips on lures and patterns that are catching bass.
On each page there is a link to the FISHING REPORTS PAGE. Let us know about your latest fishing trip by filling out this report . It will be posted on the appropriate lake page.
Also join in our FISHING DISCUSSION FORUM where you may talk about your favorite fishing subjects or issues dealing with our sport.
Apache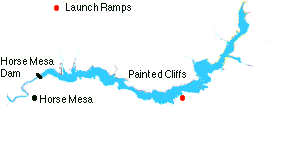 Apache Lake is situated at an elevation of 1,900 feet in the Tonto National Forest, 60 miles northeast of Phoenix.
Part of the Salt River Chain, the lake has 2,568 surface acres, 17 miles of shoreline and a maximum depth of 253 feet. The United States Forest Service maintains the area but it's owned by the United States Air Force.
This deep canyon reservoir is one of Arizona's best smallmouth fisheries. The lake has relatively low fishing pressure due to it's distant location and also that it has a 20 mile dirt road to gain access.
Largemouth, smallmouth and yellow bass are available to the angler. Other species found in the lake are rainbow trout, crappie, sunfish, bluegill, channel and flathead catfish, walleye, bullhead, and carp.
The most direct route to Apache Lake is State road 88 out of Apache Junction, but this road is not for the faint of heart. It's a one hour trip and the last 20 miles of the trip are on an unpaved dirt road that winds along the steep mountain walls of the Superstition Mountains.
For more information, call (602) 467-2511.
Saturday, Dec 7
Hi: 54˚ F

Lo: 41˚ F

Partly Sunny
Precip: 6%

Rain Showers Likely
Precip: 68%